6 Key Marketing Material for Small Business
You need the right tools for successfully market your small business. Marketing is after all one of the crucial components of a successful new business launch. A variety of expertly crafted, brand-consistent marketing materials can assist you in connecting with your ideal clients and customers, disseminating information about your goods and services, building credibility, and generating a lot of buzz for your company.
Especially if they are just beginning to use the best small business marketing strategies, the following six items are essential for every business owner:
A website
Brochures
A logo
Social media
Postcards and flyers
Business cards
Market through a website
If someone wants to know about a business he has surely engaged the internet. And it is essential if there is a well-designed website.
Your website conveys your message to the customers and surfers and informs them of your company's credibility and potential and what you are offering them your trust and demonstration that why do they business with you.
You have to receive a lot of exposure on your website, just like your logo, and it is very critical for you to get the right design.
You have to receive a lot of exposure on your website, just like your logo, and it is very critical for you to get the right design. Your fine website will ensure the results you want to get. You should be required to hire a professional website designer if you lack the necessary skills to create your website.
You have to receive a lot of exposure on your website, just like your logo, and it is very critical for you to get the right design. Your fine website will ensure the results you want to get. You should be required to hire a professional website designer if you lack the necessary skills to create your website.
Your website design must include some universal components, even though it will depend on your company and your targeted audience:
Your Company's Branding and Marketing
Successful marketing tools will be able to distinguish people to feel the difference between your and other websites. The color scheme is a charm for your company and remembers you should have to put your logo on every page of it.
Getting in Touch
Your contact information must be on the website, which includes your phone number, address, and email just as you keep that on your business card.
The "About Us" section serves as a Good Marketing Strategy
The ideal place to introduce your company and services to potential customers, and detail the history of your company is a section titled "About Us".
Information about products and services
To describe who you are to your visitors, for that you have to provide all details of the products and services which you entail providing. Depending on the business module this might involve directly selling those products and services on your website.
Operating times
You have to inform your customers to which time they have to deal with, for that your website should display the prominent operating times, with this customers feel easy to find you in meantime. to connect with you.
URLs for social media
If beside your website you are having some social media profiles, then there should be your social media URLs on your website so it will be easy for customers to connect with you.
Brochures
To provide your customers with a lot of marketing information, a useful situation is manageable formatted Brochures.
By using the broachers in numbers of the way you can market your company. Like the section of "About Us" you can illustrate by broachers to describe your company in manners. For an upcoming occasion, the broachers will publicize detailed information about your product and services, or approach your desired investors.
A logo
Your company's face is its logo. The logo design element your customers to associate with the brand because your related business will appear on everything. Just like your branded apparel and business card on your website. It is your most effective marketing tool being your company's public face.
This is undoubtedly an investment if you are not a designer and hiring someone to create a logo for your company, for years the right logo will be an essential part of your branding business, it will strengthen your brand and make it memorable for your company.
Social-Media Marketing
An online presence is a must for a small business, it's especially for the first start. You need to use social media in addition to your website and be active there. For that, you have to think about which platforms are better for your company. Nowadays Instagram is a highly visually stoppable platform, if you have dynamic photography of your brand; it is a very suitable platform for you. And if you want to interact with your customers very informally then go to Facebook or Twitter to place a post update of your company.
Alternatively, if you are used too to TikTok then open a separate account on it to share your pictorial. To expand your customer base, social media is the best marketing tool for enhancing your business, and what your company is offering feel free to highlight on social media.
Take a look at the free, editable templates offered by Dcustomprint to make your content stand out on social media.
Postcards and flyers
For small businesses and especially for local marketing a postcard or flyers is the most adaptable marketing tool. In size, they are bigger than a normal business card, and you should put your company's information on them, Along with a promotional offer or an eye-catching graphic on it. Both flyers and postcards are easy to carry. That is another way to attract your customers effectively, or you should post a message on them to your desired clients' community, as they are fantastic mail marketing tools. With their size and finishing, they are more tend to stand out from other types of mail, and it is a simple way to catch the customers' attention. There is a wide range available in the shape of postcards and flyers, which increase and influence your marketing. Whereas you won't need as many for one-time promotional deals, you will want to order a big stack.
Business cards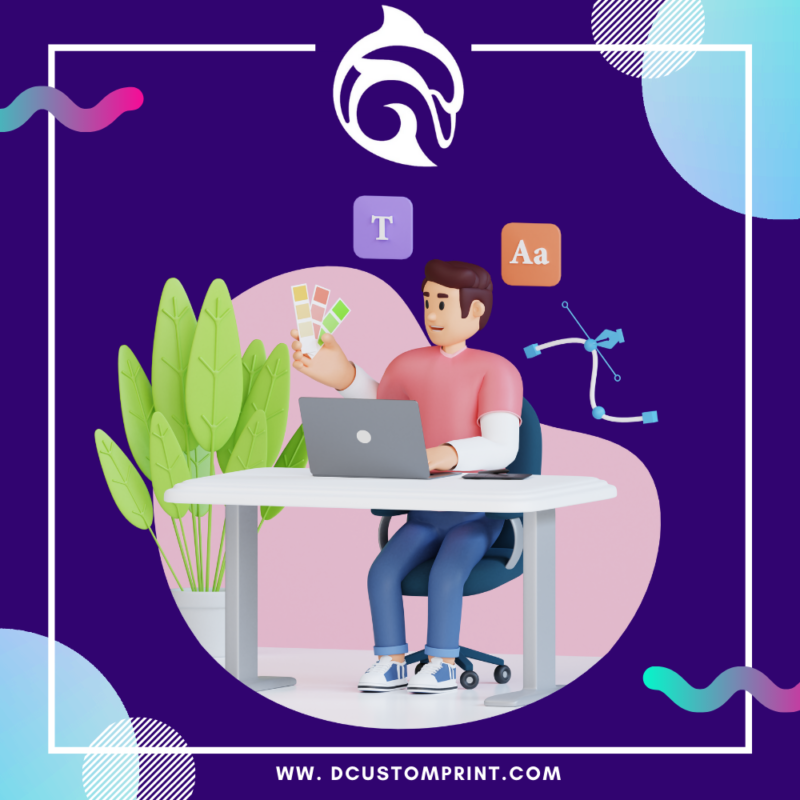 The rest of your marketing collateral should be made, beginning with your business cards, once your logo has been created.
Appropriate dimensions, logos, and contact information will be required for your business card design. Following that, you can design your card and begin using it to network and promote your company.
Using business cards as a marketing tool for your small business is incredibly flexible.
Link up with customers and clients. One of the most efficient ways to use business cards is the most conventional.
Give business cards to prospective clients and partners when you meet them so they know about your company and how to contact you.
Increase your community's awareness of you. Business cards can be a great tool for local marketing, which is something that many small businesses rely on. You might put up your business card on notice boards in neighborhood coffee shops or get to know other nearby business owners by asking to leave a stack of cards behind. Your company will be more visible and your marketing efforts will be more successful as you distribute more business cards throughout the community.
Having business cards on hand ensures you are prepared for anything because marketing opportunities can arise when you least expect them. For instance, while waiting in line at the grocery store or while on vacation, you might run into a prospective investor or client. If you have a business card, you can utilize those chance encounters to advance and expand your company.
Also, Read